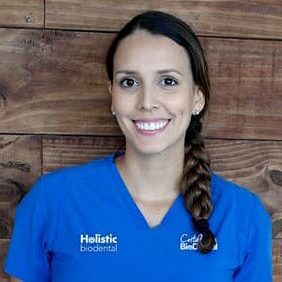 Dr. Gianina Soto
Doctor of Medicine in Dentistry
"Processed sugars in diet deplete nutrition"
Download Resume
Dr. Gianina Soto (DMD)
Chief Dental Clinician & Owner
Dr. Gianina Soto is one of a few dentists in Costa Rica with a passion for living in harmony with mother nature and has been embracing a whole-food, plant-based diet for over 20 years. Dr. Soto's mission in life is to help patient's make the transition from non-harmonious lifestyles into more holistic ones. Today, Dr. Soto serves as Chief Dental Clinician at the BioDental office in Tinamaste de Baru.
Costa Rican BioDental is very honored to be making alternative dental therapies and treatments available for everyone through students and disciples of Dr. Runar Johnson's holistic dental training course in Seattle, Washington. Dr. Soto knows her life's calling and purpose to practice her mentor's teachings right here in Costa Rica.
At Costa Rica BioDental, everything we do here coincides with the manifestation of these new breeds of natural born holistic and biological dentists like Gianina, which is why we work with her to provide our patients with the best holistic care posible.
Higher Education
Biological Training
Costa Rican BioDental
2016 – Present, Escazú, San Jose, Costa Rica
Post Doctoral Fellowship
The Pontificia Javeriana University
2011, Central Bogotá, Colombia.
Oral Surgeons Emphasis & Specialization
The University of Costa Rica (UCR)
2008, El Carmen, San Jose, Costa Rica
Doctor of Medicine in Dentistry (DMD)
The University of Costa Rica (UCR) (6-year dental program)
2002 – 2008, El Carmen, San Jose, Costa Rica
Career
Doctor of Medicine in Dentistry
Costa Rican BioDental 2016 – Present
CIMA International Hospital, Escazú, San Jose, Costa Rica
Chief Dental Clinician
Private Dental Practice
2014 – 2016, San Jose, Costa Rica
Chief Dental Clinician
Private Dental Practice
2014 – 2015, San Jose, Costa Rica
Chief Dental Clinician
Private Dental Practice
2008 – 2014, San Jose, Costa Rica